The Band was recently invited to return to the Tesco Store in Tidworth to play a selection of musical pieces  to commemorate all those who have lost their lives in conflicts. Seated in the warmth of the store, the musicians delighted the public by playing a mixed repertoire of musical pieces.
On Remembrance Sunday, Phoenix Brass lead the traditional Remembrance Day Parade starting in Marlborough High Street with representatives from many organisations laying their red poppy wreaths on the roundabout memorial. On a chilly but sunny morning, veterans and people of all ages were represented in the commemorations. The Reverend Chris Smith led the service at the War Memorial with a short prayer, followed by The Exhortation which, in turn, was followed by The Last Post performed by solo cornet player, Anthony Palmer.
Richard Dolton laid a wreath on behalf of the Band at the War Memorial.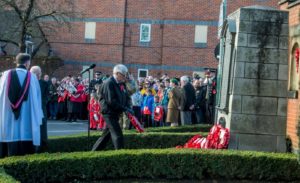 After the Two Minute Silence at 11.00am, Anthony Palmer played The Last Post and Reveille before the Band lead the procession to the Remembrance Day Church Service.
On Armistice Day, Marlborough fell silent to the tolling of the Marlborough Bell. Pupils and staff from St John's Academy joined with representatives of the Royal British Legion, 4MI Battalion and Town Councillors to observe a two minutes silence. Anthony Palmer played the Last Post.