Phoenix Brass Band draws its members from West Berkshire, Wiltshire, Hampshire and Gloucestershire. Here you can find out more about the Band, how to join the Band, where the Band will next be performing and how to book the Band for your event. We have tried to include everything you might be looking for but if you still have a question then please do contact us. We look forward to hearing from you.
About the Band
Phoenix Brass is a community Band providing entertainment for audiences and its members. The Band prides itself on its friendliness and enthusiasm and caters for all ages and standards of musician. Our current players range from 9 years to 80+ years. Everyone shares the one common goal, that of making music with like minded people.
The Band provides facilities for brass players to participate in musical activities of many types and at the same time gives musical interest and entertainment to the public. We encourage appreciation and participation in music as a whole whilst providing educational and training facilities for people of all ages to learn to play a brass instrument as members of a group. The Band also uses its musical abilities to assist other organisations, charities and communities to achieve their goals.
Phoenix Brass is based in the village of Froxfield on the West Berkshire and Wiltshire border. It is completely self-financing since it does not have any direct sponsorship nor any regular financial input from any local authority or organisation.
Phoenix Brass has a strong membership across the Main Band and Training Band. There are currently 30 players in the Main Band for more experienced players and 25 players in the Training Band intended for learners, beginners or some players returning to an instrument. Both Bands have a mix of adults and children performing together. We welcome anyone, of all ages and mixed abilities, who enjoys playing. We play a mix of crowd-pleasing favourite arrangements of modern music, movies, classical, traditional marches, a few challenging pieces and even some music arranged by the Musical Director!
If you are looking for a musical group to perform at your event, as background music or as the main performer, then why not consider Phoenix Brass. We can perform a programme of music to suit any occasion, and at very reasonable rates. For more information, or an informal chat, please contact us.
If you are a player looking for a new band and feel that you would like to join the friendly and welcoming family of Phoenix Brass, or that you would like to further your musical ability, why not visit us or contact us. If you would like to learn a brass instrument from scratch or would like to return to playing then please refer to our Training Band page. We look forward to hearing from you.
Band History
Phoenix Brass band was formed in May 1993 by a small but enthusiastic group of players under the leadership of Musical Director, David Watson, to promote the enjoyment of brass band music, not only for the players but also for the public. The Band has steadily grown in popularity and size and there is great demand for its services. The Band has been entertaining audiences in and around the area for the past 25 years.
Phoenix Brass considers itself a family band with numerous spousal, parental and sibling relationships. An initial grant from the Foundation for Sport and the Arts followed by a grant from the National Lottery through the Arts Council of England enabled it to purchase new instruments which allowed the Training Band to grow and welcome more young players.
The Band regularly plays to raise funds for charities and is delighted to have helped raise large sums for these organisations.
In May 1996 Phoenix Brass was invited to take part in the "Granting of the Freedom of Marlborough" to the Captain, Officers and Ship's company of HMS Marlborough by playing to the assembled guests and boosting the military pipes and drums during the ceremony in Marlborough. Following on from this, the Band was invited to attend Navy Days in Plymouth in 1997. From playing on the outskirts of the dockyard the Band was moved by the Navy closer to the central area at every session, finally playing right outside the main arena itself.  The Director of Music of the Royal Marine Band in attendance then requested Phoenix Brass join them in the Floodlit Tattoo that evening, in particular to play "Highland Cathedral".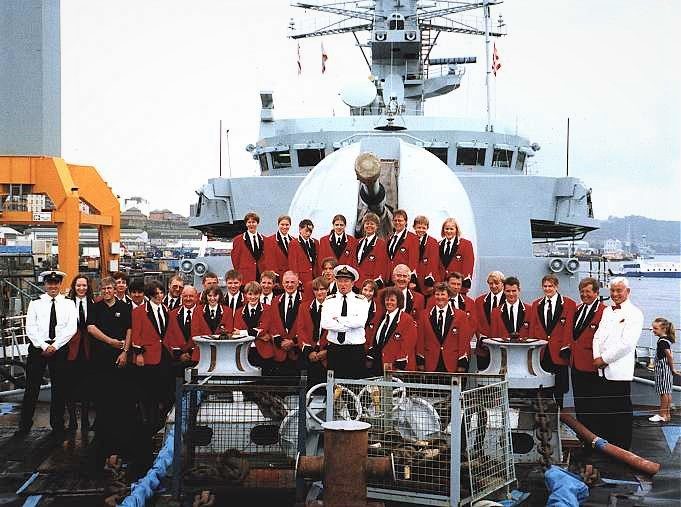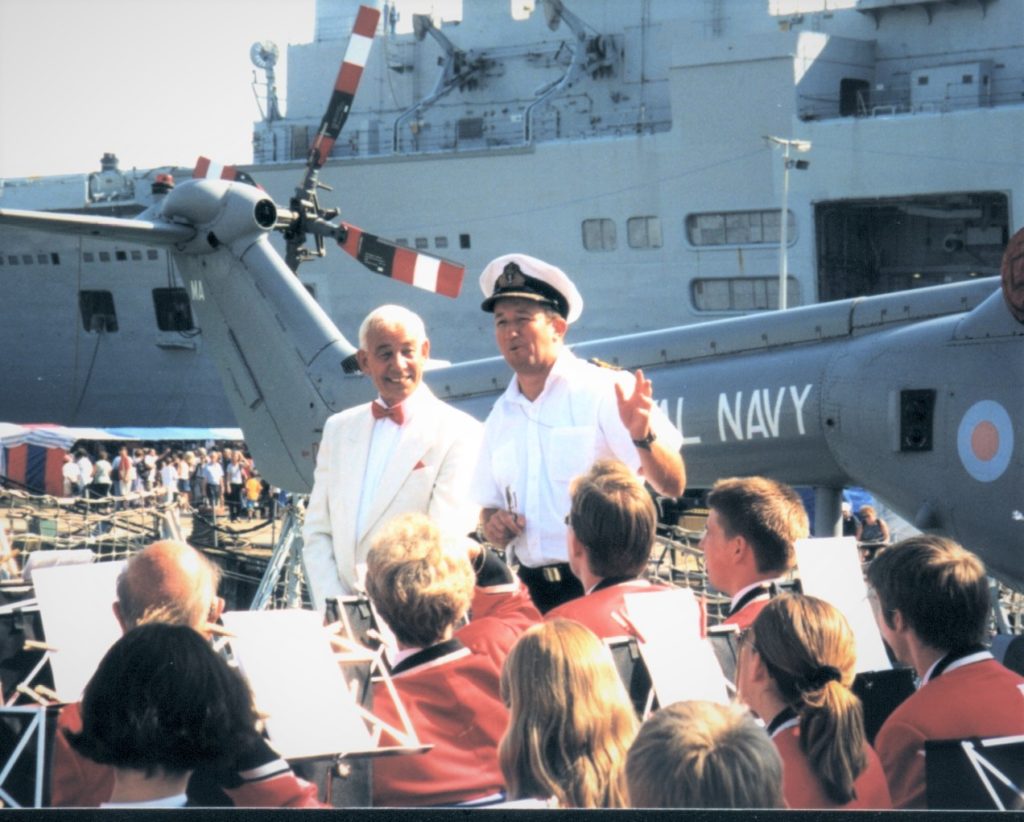 In the following years Phoenix Brass took part in the first International Festival of the Sea held at Portsmouth, playing on the flight deck of HMS Marlborough itself. The Band played the frigate back into dock after a tour of the Far East.  Phoenix Brass also played for the 4th Frigate Squadron carol services held on HMS Warrior and provided music during family Gun Run Days.
To commemorate the relationship between the Band and HMS Marlborough our Musical Director, David Watson, composed a march "HMS Marlborough F233" dedicated to the Officers and Crew, which was published in August 1999.
Sadly, in July 2005, the Government arranged the decommissioning of  HMS Marlborough. The Band will miss the affiliation, but are proud to have been associated with the ship and will cherish the many friendships they have made with the officers and crews.
The Band has also had the great pleasure of playing before Her Majesty the Queen in October 1996.
To celebrate the Millennium, Phoenix Brass was joined by players from The Cricklade Band on a week's 'banding trip and tour' to Malta in May 2000. The musicians performed at a number of different locations and venues, including outdoors in town squares and in churches across Malta and the Island of Gozo to the delight of the local residents intrigued by the varied repertoire of musical pieces. During breaks from playing, the musicians relaxed by the hotel pool and enjoyed sight seeing ventures.
Following the formation of Phoenix Brass David Watson had a long-standing dream to hold a brass band contest that was to become different from the normal contesting environment. The first difference was to drop the word "Contest" as the event was not to be about competition, but about enjoyment of music in friendly rivalry. The next was to invite only 4th section, unregistered and youth bands, with no limit on numbers other than size of stage, so that they, the real amateurs of the brass band world could have the limelight for the day.The event was to be split into two parts with bands invited to play an "entertaining programme" in the first part after which prizes would be given. There would be an open adjudicator to award technical awards and a panel of ordinary people who would award a prize for the most entertaining programme. Bands were also invited to have a recorded adjudication, so they could listen to their performance alongside adjudicators comments. The second part of the festival would be a Massed Band Concert made up of Phoenix Brass and players from the other bands that had competed earlier in the day.
In 1996 the first Festival was held at Marlborough Town Hall in Wiltshire, moving to Marlborough College the following year as The Marlborough Brass Festival.  In 2001 it became the Phoenix Brass Festival and moved to the John O'Gaunt School in Hungerford, Berkshire.
No organised event is free from problems, but from the outset the Festival was successful in its aims particularly the encouragement of young players.   It remained a relaxed and enjoyable day for both players and listeners, with many bands returning each year to renew friendships and enjoy the day.
Members of Phoenix Brass and Friends of Phoenix worked hard to ensure that the Festival continued but, regretfully, spiralling costs resulted in the last Festival being held in 2010. Attempts to resume the Festival for 2011, more as a competition for Training Bands by invitation, unfortunately failed due to lack of support from other bands.
In 2012 a "Festival of Music", without competition, took place with the tremendous support of The Cricklade Band and proved extremely successful.
The Band is pleased to be able to support local churches and plays at many summer fetes, garden parties, weddings, festivals and other celebrations. We play for the Remembrance Day Service and Parade in Marlborough in November and a variety of carol services throughout December, including street collections and performing seasonal tunes to the residents of Nursing Homes and to the wider public outside a number of different stores. In addition to this regular pattern of engagements, the Band gives a number of one-off performances as and when booked. We also hold occasional social events for band players, members of the Friends of Phoenix support group and their families.
Band Rehearsals
Phoenix Brass meets for rehearsal on Tuesday and Thursday evenings throughout the year from 7.30pm until 9.30pm and we are always pleased to welcome players of all standards. We play a wide ranging but generally light repertoire.
Rehearsals are generally easy going and are a mixture of playing through musical pieces currently in our programme and working in more detail on new music to add to our programme. There are no auditions but there is an expectation that if you join the band you will attend regularly.
Rehearsals are held at Froxfield War Memorial Hall, The Green, Froxfield, Wiltshire, SN8 3LY.
If you already play a brass or percussion instrument and have been thinking of joining a band, then you are more than welcome to come along to Tuesday or Thursday evening rehearsals. You can also get in touch to find out more about the Band.
The Training Band meets at Froxfield War Memorial Hall on Saturday mornings, from 10.30am until 12 noon for individual lessons and group practice.  The Training Band is open to learners of any age. Please do enquire about current arrangements for beginner groups and individual tuition – all ages and experience welcome. Please see the Training Band page for further information.