Phoenix Brass Training Band has been up and running for a few months now after an extended absence due to the Covid pandemic.
The nature and purpose of the Training Band is to teach and encourage new players until they are competent and confident to join players from the Main Band. Many of the teachers and helpers began their love for music in the Training Band many years ago. They are musicians who are 'home grown' and have come through the ranks of the Training Band to play in the Main Band. They understand the difficulties in learning to read music and play a brass instrument. It is this understanding and empathy which enables them to draw out the love of music and the ability to read and play, from even the most nervous trainee.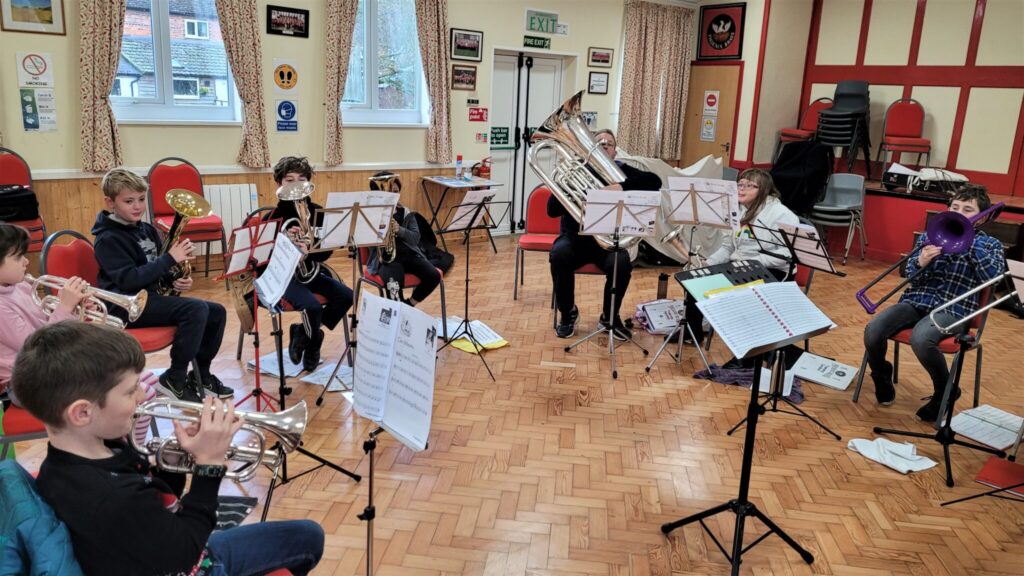 The Training Band are a diverse group of youngsters and adults of varying abilities. It is often said that the big ones help the little ones, and the little ones keep the older members young!
The Training Band meet each Saturday, usually between 11am and 12 noon, in the Froxfield War Memorial Hall to learn, meet friends and make music. We just ask for £1 for children and £2 for adults each rehearsal to help cover the cost of the band room, music etc. The sessions themselves are free of charge and instruments are provided on loan.
There is also the opportunity for one to one tuition before the start of Training Band.
If you feel you would like to learn to play a brass instrument and join Phoenix Brass, or would just like to come for a visit, please do contact Marilyn Mason via the Contacts Page to see what instruments we have available or when might be a good time to come along. Or alternatively, please feel free to drop in to see us on a Saturday morning. We look forward to meeting you.