Players from the Main Band, Training Band and Beginners Group returned to rehearsals almost two months ago. Despite rehearsals taking on a lightly different appearance with more distancing between players and wearing of masks in between playing, all players have worked extremely hard to pick up from where they left off prior to the pandemic starting in March 2020.
To protect all the players, all rehearsal activity was cancelled until the easing of restrictions this year. Similarly, all engagements booked during 2020 and the summer this year were cancelled by the organisers amid concerns over the pandemic. Now, as life begins to return to some normality, the players are busily rehearsing in anticipation of performing at booked engagements.
Recently, the band performed at a Pet Service at St Nicholas Church in Upper Chute. Various pets of all shapes and sizes accompanied their owners to the service.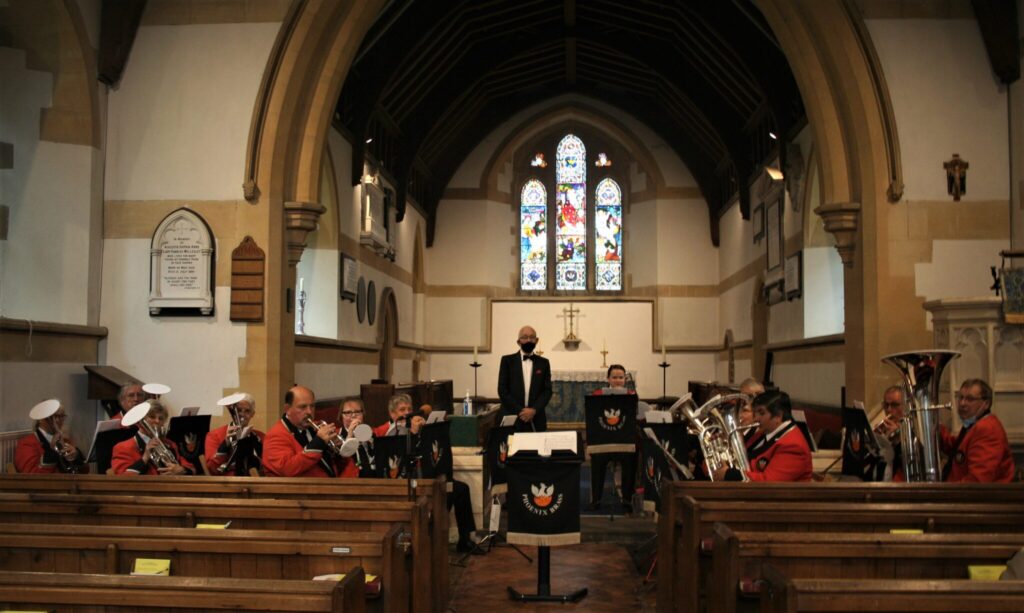 There are a number of upcoming public engagements booked between now and the end of the year, but all are subject to current Covid restrictions.
Saturday, 21 August 2021 – Froxfield Beer and Music Festival, 1pm
Saturday, 4 September 2021 – Froxfield Community Weekend, 2pm
Sunday, 14 November 2021 – Marlborough Remembrance Parade and Church Service, timings and details still to be confirmed
Saturday, 11 December 2021 – Christmas Street Collection with Carols and Seasonal Tunes, Marlborough High Street, 10.00am to 4.00pm
Sunday, 12 December 2021 – Band Christmas Concert, Marlborough Town Hall, timings to be confirmed
Thursday, 16 December 2021 – "Brass and Carols" at The Tipple Inn, Collingbourne Ducis, 7.30pm
Saturday, 18 December 2021 – Christmas Street Collection with Carols and Seasonal Tunes, Marlborough High Street, 10.00am to 4.00pm