On Sunday, 26 April 2015 a capacity audience filled the Upper Chamber in Marlborough Town Hall to witness a very special event. Phoenix Brass was joined by the Cricklade Band and past players and friends to help David celebrate his great achievement – 70 years of playing and conducting in brass bands.
David had chosen the concert program to reflect pieces that had special significance to him, to remember people and places. There were over fifty players on the day, making a truly wonderful sound. The president of Phoenix Brass, Mike Kilroy, was guest artist that afternoon. Also in attendance were the Band Vice Presidents Commodore Jamie Miller RN, OBE and Mrs Christine Peacock.
Mike played four pieces that had been picked by David. The first was a duet "Deep Inside the Sacred Temple" with Liane Squibb. The audience was bowled over by the beautiful sound of this euphonium duet. Mike played three other solos ("Blaydon Races", "Grandfather Clock" and "Carnival Cocktail" in which one bar of music contains 32 notes!) that demonstrated his amazing musicianship and why he was the Principal Euphonium Player of such bands as Grimethorpe and Brighouse and Rastrick.
Phoenix Brass cornet player Anthony (Tug) entertained the audience with his beautiful solo "Cornet by Candlelight".
Carol Silk presented David with a commemorative baton on behalf of The Friends of Phoenix. David later christened it in the second half of the concert.
It was the most wonderful afternoon with everyone enjoying the music. The feedback after the concert was fantastic.
Mike Kilroy spoke eloquently about David's life in brass banding, how they met over the phone when David tried to buy a euphonium from Mike, and how privileged and honoured Mike feels about being President of Phoenix Brass. All the glories of the top flight band are as nothing, Mike said, in comparison with the family atmosphere and dedication of grass roots brass bands. Commitment and loyalty are traits of banding that stay with a brass player throughout their life. Mike presented David with an engraved glass on behalf of Phoenix Brass.
Commodore Jamie Miller also spoke about his association with David and Phoenix, praising the dedication of David in the service of banding and thanking him for the many occasions at which Phoenix have played. Jamie presented David with a lead soldier, a fife player, but did say it was on loan until he could find a bugler! "High on the Hill", a favourite of Jamie's was played…twice!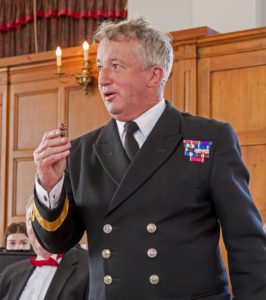 After the concert, the players and audience were invited to the lower chamber of Marlborough Town Hall where the Friends of Phoenix had laid on a magnificent tea. Plates of sandwiches, savouries, cakes and trifles were soon demolished. It was wonderful to have a chat and meet up with friends old and new. It was good to see some familiar faces in the crowd, all enjoying the afternoon.
One final surprise for David was the presentation of a celebration cake by his wife, Irene. Made by their daughter in law, Carrie Watson. It featured the sheet music of "All in the April Evening".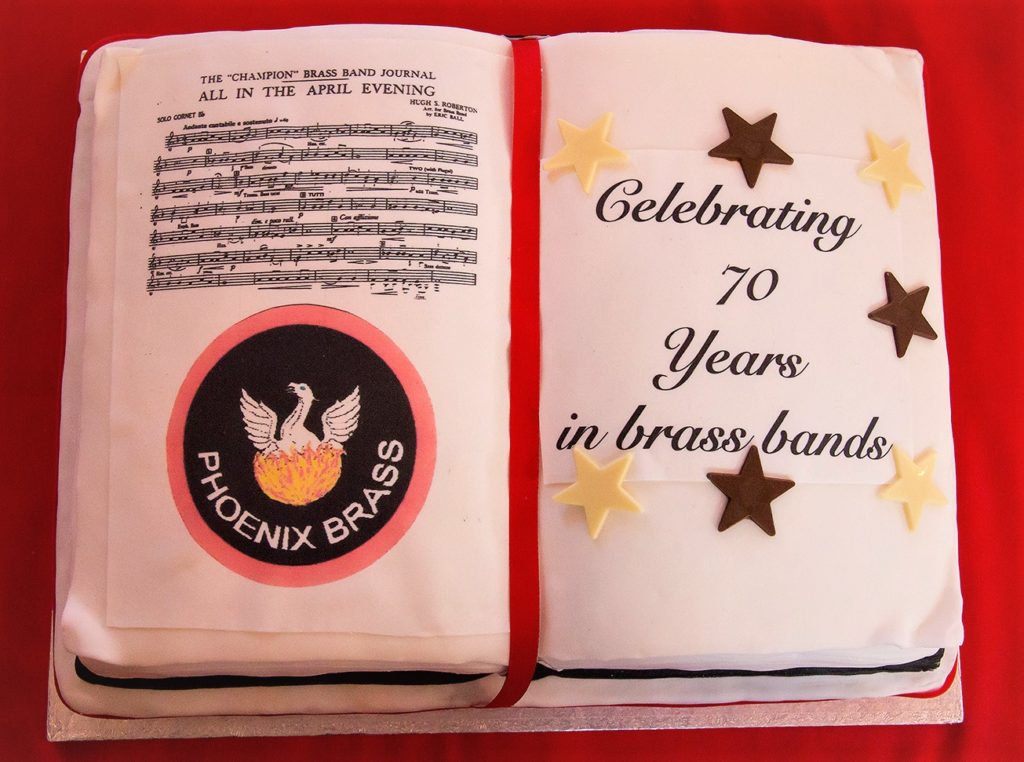 Overall a fantastic afternoon, and a cracking concert.