David Watson recently celebrated 75 years in Brass Banding! What an achievement!
David Watson was born in Dovercourt a suburb of Harwich in Essex to a musical family. His grandfather played the cello and euphonium for a small Royal Marines band, while his mother was a songster with the Harwich Salvation Army. David's full-time involvement in Brass Bands began 75 years ago at the age of seven when he played cornet in the Harwich Salvation Army Band. He played on Sundays and, in between services and Sunday school, he played with the Band as they marched through the town.
At fifteen, he had to stop playing following an operation and moved to percussion instruments and then the drums, to add to his repertoire. After two years National Service and a chance encounter with a taxi driver, David resumed playing the cornet with the Grange Brass Band where he learnt about conducting and band management. The Grange Brass Band became the Harwich Concert Band of which he became band secretary for 15 years. During this period, he became the Musical Director of the Harwich Accordion Orchestra, which achieved many successes in concerts and competitions including winning the advanced section at the British National Championships. He was also called upon to conduct the Clacton-on-Sea Concert Orchestra during a long absence of their own musical director.
David moved to Marlborough and joined the Kennet Vale Band as a cornet player but soon became the Conductor of the Youth Band. At the same time, he helped form the Kennet Accordion Orchestra that subsequently became Southern Area and Thames Area Champions and won many other competitions.
He subsequently became Musical Director of a re-formed Hungerford Town Band, working hard to ensure its survival. David started a learners' course and raised enough money to buy instruments and a library of music. But then, David decided to do it all over again and started a completely new brass band, with no music, no instruments, and no money!
In 1993 he helped form Phoenix Brass, at the same time becoming its first Musical Director. A lottery grant then helped buy new instruments and a music library, and the rest, as they say, is history!
Thank you David for a life in music, teaching, and service.
Notwithstanding the current Coronavirus situation, arrangements were made to present David with a Certificate of Appreciation and a Badge from the Gloucester Brass Band Association, a balloon from Phoenix Brass Band and an 'Album of Messages'.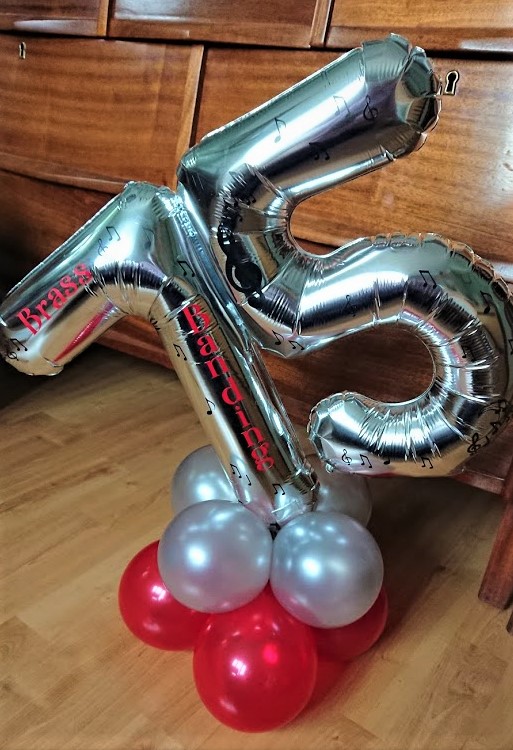 The messages had been collected from former and existing players from Phoenix Brass and friends. Mike Kilroy, Honorary President of the Band, internationally acclaimed euphonium player and Chairman of Brass Bands England, contributed to the congratulatory messages, in addition to Commodore Jamie Miller RN, OBE, and Chris Peacock, Honorary Vice Presidents of the Band.
David also received a framed cartoon drawn by his brother in law.
The 75 years to Brass Banding coincided with David celebrating his birthday. Players from Phoenix Brass found a way to come together and perform Happy Birthday from their homes, just like they used to before social distancing was introduced. The recording can be found: https://www.youtube.com/watch?v=SYED9kHpwn0&feature=youtu.be